Summer can get really hot and sticky in the city…
so when designing the new Summer Menu we focused on providing nutritious and progressive food options that were light, cooling and colorful!
Consistent with all our cafés, we leveraged seasonal items that are perfectly ripe for summer including papaya, mango and berries.
A great examples of this seasonal focus is the Chia & Smoothie Parfait, made with almond milk, honey vanilla and cardamom. Chia pudding is topped with a refreshing, minty mango smoothie, made from mango puree, fresh mint, yoghurt and almond milk.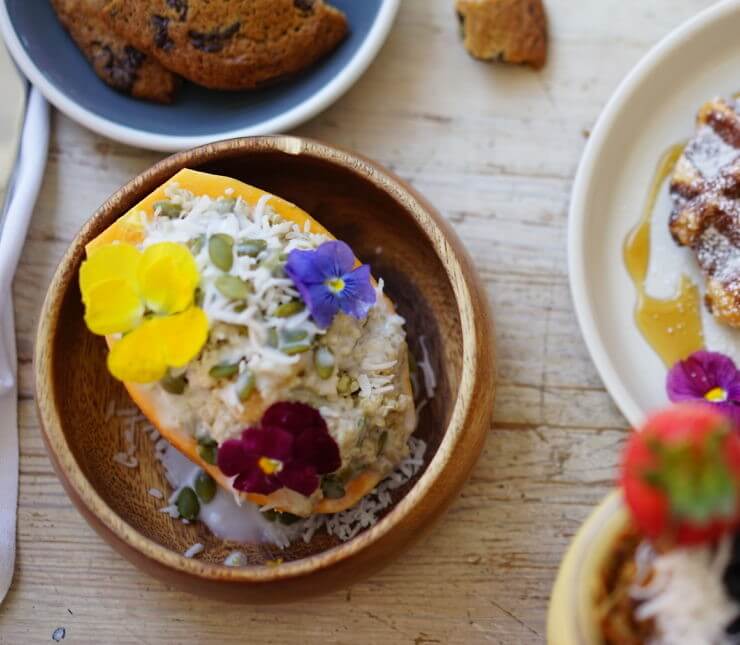 This dish is a vegan friendly fruit plate with a twist. Soaked apricots and seeds are added to the chilled coconut quinoa. The papaya is halved and seeded. The center is filled with chilled coconut quinoa and garnished with edible flower, sunflower seeds, pepitas, shredded coconut and coconut cream.
The flavor profiles of both our Chia & Smoothie Parfait and Chilled Coconut Quinoa Porridge are creamy, light and sweet yet refreshing.
With the popularity of our Rainbow Bowl introduced in the Spring 2016 Menu, we have complemented it with the addition of a new All Green Goodness bowl.
This dish is the perfect option for someone looking for a light, healthy, fresh meal. Bright vibrant green vegetables, some raw, some blanched, ensuring optimum nutrients are preserved for consumption. Grain, dairy and gluten free, vegan lunch option, but also great served with a poached egg, smoked salmon or chicken. Delicious.
Weekending Brunching can also be indulgent (if you want it to be), so with that in mind we have added the PB & J Waffle, a fluffy baked waffle, dressed with fresh strawberries, creamy mixed sunflower and peanut butter, maple syrup and garnished with edible flower and icing sugar. This is a rich, indulgent sweet option. Great option for someone needing a sugar hit and for sharing.
We have also bolstered up our sandwich options which now includes the classic mouthwatering Chicken Sandwich.
Herbaceous chicken salad, pulled chicken breast, Japanese kewpie mayonnaise, tarragon, basil, parsley, shallots, capers. Crispy lettuce, served on Balthazar multigrain bread or gluten free bread . Chicken mixture is full of flavour, lots of fresh herbs and salty capers = delicious!
We can't wait for you to try the menu and hope you love it as much as we do!